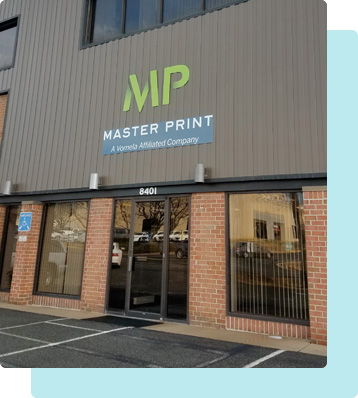 WHY MASTER PRINT
At Master Print we are more than just your printer—we are your partner.
Our investment in people and equipment enables us to provide comprehensive printing solutions to our customers. We listen to our clients and work with them as a partner to meet and exceed their expectations on each project; providing creative suggestions and economical solutions along the way. Our services extend far beyond conventional and digital printing to include robust finishing options, E-Commerce solutions, fulfillment and distribution management. Additionally, with the help of our Vomela network, Master Print now provides state of the art wide format printing and custom displays.
FACTS
Founded in 1971
Over four decades of print experience!
---
Located in Newington, VA
Just 15 miles outside of Washington D.C.
---
Outstanding Staff of 120 employees
Extensive and diverse knowledge of market needs and technology
---
80,000 square foot Plant
60,000 square feet dedicated to Manufacturing
20,000 square feet dedicated Customer Inventory and Fulfillment
ABOUT THE VOMELA COMPANIES
In 2014, Master Print became a member of The Vomela Companies team, providing specialized expertise in offset commercial printing and mailing services. Founded in 1947 by Jack Vomela, the Vomela Specialty Co. specialized in printing and die cutting. Throughout its 70 year history, The Vomela Companies has grown and diversified its services through an ever expanding network that now includes more than 20 locations.